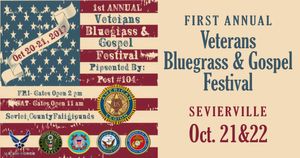 The 1st Annual Veterans Bluegrass and Gospel Festival is brought to you by the American Legion Post #104 and Wilson Pickins Promotions. 
This is a very special event bringing you first class Bluegrass, great food, fun, and fellowship. The Annual Veterans Bluegrass and Gospel Festival benefits, via festival proceeds, the incredible programs set forth by the Legion caring for members, their families, and community. 
Due to the Gatlinburg fires, it has been a difficult year for Post #104. Come on out and help get everyone back up and running….. and have a great time doing it!
Artists Performing 
Alan Bibey & Grasstowne 
Lorraine Jordan & Carolina Road 
Clay Hess Band 
Mike Bentley & Cumberland Gap Connection 
Sideline 
Nightflyer 
Kristi Stanley & Running Blind 
Wilson Banjo Co. 
Jim & Lynna Woolsey 
Willie Wells & Blue Ridge Mountain Grass 
The King James Boys 
and local favorite…..Krystal Rayne!
Admission 
CASH ONLY. For your convenience, ATM's are located at the gate. 
Friday $25.00 
Saturday $35.00 
Both Days $55.00