About The Band
Prepare to be transported to the heart of Bluegrass & Bluegrass Gospel music with Willie Wells & The Blue Ridge Mtn Grass 
... a phenomenal Bluegrass band that will have your toes tapping and your spirits soaring!  The band is led by Willie Wells, a veteran
musician of 45 + plus years, and the son of the late Bill Wells of Bill Wells & The Blue Ridge Mtn Grass. 
Willie Wells & The Blue Ridge Mtn Grass (BRMG) effortlessly blend masterful instrumentation, tight harmonies, and infectious 
energy to create a sound that is as timeless as it is captivating. From the lightning fast banjo picking to the mournful fiddle melodies, 
each member of this exceptional ensemble brings their own unique flair resulting in a harmonious synergy that is truly mesmerizing. 
Willie Wells & The Blue Ridge Mtn Grass are currently on the SON SOUND RECORDING LABEL with four album projects to their 
credit. BRMG has enjoyed success with numerous chart-topping hits such as "My Best Friend is a King" and "Moses You're the Man" 
written by band member Patrick Russell, along with "Nothing Good About Goodbye"  written by band member 
David Prosser. 
Today the band is a mix of traditional and contemporary Bluegrass with some new arrangements of old songs as well 
as a mix of original songs. Their high energy stage show and stage presence keeps the audience engaged and into the music. 
 Whether you're a dedicated Bluegrass aficionado or new to the genre, Willie Wells & The Blue Ridge Mtn Grass will take you on a 
musical journey you won't soon forget.   With their lively performances and heartfelt storytelling, they capture the essence of
Bluegrass and Bluegrass Gospel inviting audiences to sing along, dance, and feel a deep connection to the roots of American music. 
Don't miss your chance to experience the magic of Willie Wells & The Blue Ridge Mtn Grass. Join us for an unforgettable time 
of foot-stomping soul-reviving melodies that will leave you with a smile on your face and a song in your heart.  Get ready to be swept
away by the incredible talent and undeniable charm of this exceptional Bluegrass ensemble.
Willie Wells, the son of the late Bill Wells has always been on the music scene. Since the early 70's Willie has played drums, sang lead and harmony vocals. Willie and another musician friend organized a country music group called "CHOYCE" that ran for more than twenty years. Having early country music and bluegrass influence from his father, Willie continued to develop and expand his musical direction toward recording studio production. 
The past ten to twelve years is when the Bluegrass influence kicked back in which prompted Willie to dedicate his musical direction to continue the Bluegrass legacy that his father started. Being inspired by his father to play guitar and to be at the helm of the "Blue Ridge Mtn. Grass" band (BRMG) that his father started some forty  years ago, Willie is keeping his father's wishes to preserve Bluegrass music alive in South Carolina. 
Born and raised in Columbia, SC, banjo player David Prosser began learning how play in the late 1970's. After hearing Earl Scruggs playing the original Foggy Mountain Breakdown, David gave up playing rock guitar to focus on banjo, David was one of the founding members of Carolina Rebels, a group that has performed together for over 40 years playing mix of styles from Scruggs to Reno to melodic. He loves to play and have a good time on stage. While he is well-versed on guitar and plays some Dobro, the banjo is still his first love having performed before presidents, dictators and royalty.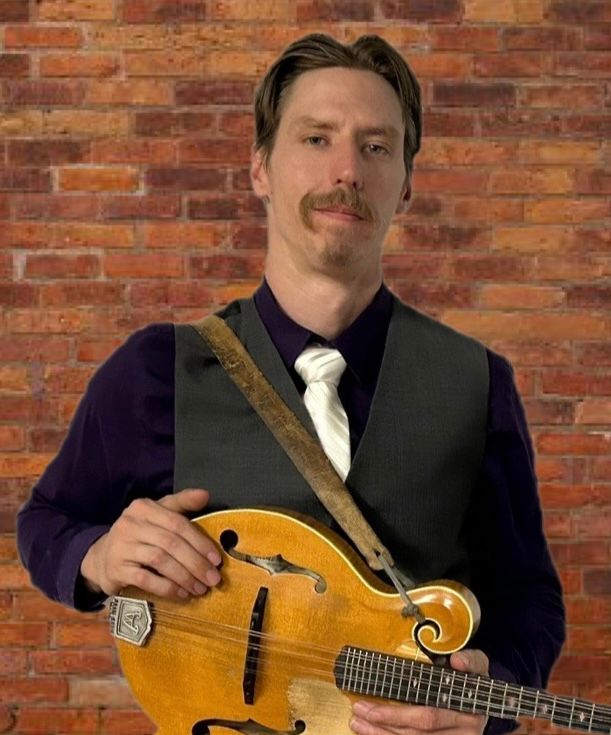 Parker Wade, a mandolin extraordinaire hailing from the picturesque landscapes of Colorado and the music-rich heart of Nashville, Tennessee, is a seasoned musician with over 25 years of dedication to his craft. With nimble fingers dancing across the mandolin's strings, he weaves enchanting melodies that breathe life into both country and bluegrass music.
Beyond his musical prowess, Parker leads a fascinating double life. When he's not captivating audiences with his melodic artistry, he steps into the rugged world of farriery, demonstrating a remarkable versatility that bridges the gap between the soothing rhythms of music and the precise craftsmanship required to care for horses' hooves.
Parker Wade's journey is a harmonious blend of musical virtuosity and down-to-earth dedication, making him a true maestro both on stage and in the stables. His enduring passion for music and unwavering commitment to his trade have left an indelible mark on the vibrant cultural tapestry of the regions he calls home.
Patrick Russell developed his love for bluegrass music growing up in East Tennessee. While in the military, he pursued bluegrass wherever he could, sometimes forming bands in unlikely places. A bluegrass band formed in South Korea, "Just Grass", won the All Army Battle of the Bands in 2000, competing against bands from all genres of music from around the world. After retiring from the Army, he moved back to the southeast and its bluegrass nest bed. Patrick wrote four originals songs for the band, including the title song "Gravel in my Shoe" that spins a wistful tale of the wanderlust residing in many of us. He pays homage to the Father of Bluegrass Bill Monroe in "Hear That Mandolin Ring." Our two spiritual offerings also came from Patrick, "Walk a Mile" and "The Guiding Light."
Born and raised in Columbia, SC, fiddle player Don Ashley heard the fiddle from early recordings of Flatt and Scruggs.  Hearing fiddlers like Benny Sims, Benny Martin, and his personal favorite Paul Warren, he soon began learning how to play in the late 1970's. Don took lessons from Bill Haney, one of the original Tennessee Cut-Ups. Don is a founding member of The Carolina Rebels, a band that has been performing together over thirty-five years. He has performed before presidents, dictators and royalty.