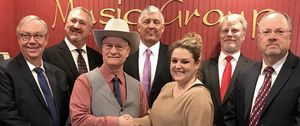 Son Sound Music Group, a record label located near Charlotte, NC, has announced the signing of Willie Wells and the Blue Ridge Mountain Grass from South Carolina. 
Willie marks the second generations of Wellses to lead this group. His dad, Bill Wells, started the band more than 40 years ago. Bill was the proprietor of the iconic Bill's Music Shop & Pickin' Parlor in West Columbia, SC from 1985 until he died in 2011, where folks would congregate to pick, sing, and listen to bluegrass music. 
Now Willie is carrying the legacy forward with The Blue Ridge Mountain Grass. He plays guitar and sings, assisted by Patrick Russell on mandolin, Don Ashley on fiddle, Larry Klein on rest-guitar, Tommy Thomas on bass, and David Prosser on banjo. 
Son Sound approached Willie after The King James Boys move to Pinecastle Records. Holly Robinson-Branch with the label said that… 
"I went on a search and stopped when I found Willie Wells and The Blueridge Mountain Grass. Every now and then you are blessed to find something different that still fits within a very traditional genre. I am so excited to begin a new project with these guys." 
And Willie feels like it is a good fit as well. 
"We will be beginning a new recording very soon with Son Sound Music Group. The new album will have a bluegrass Gospel touch and will feature many original songs penned by our very own, Patrick Russell. We feel both The Blue Ridge Mountain Grass and Holly at Son Sound share the same vision for spreading the Gospel while producing some great music."