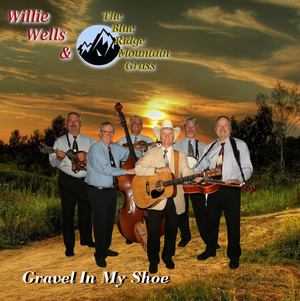 Willie Wells & Blue Ridge Mountain Grass and Wilson Pickins Promotions have released   GRAVEL IN MY SHOE, 
The new album was produced by Edgar Loudermilk,  and is a well thought out collection of traditional bluegrass music, as well as some pleasing original music. 
Continuing the family tradition his father Bill founded, Willie Wells heads up this current version of the Blue Ridge Mountain Grass band. Singing lead and tenor 
His bandmates bring many years of stage experience with them. Larry Klein, known for his soulful Dobro playing, is the group's only remaining original member. He was also the host of NPR's "The Bluegrass Sound" for 30 years, having retired from the radio only recently. 
David Prosser and Don Ashley came to the band as a duo from the well-known Carolina Rebels band, founded by David's dad Hank. David's straight-ahead Scruggs style banjo is lightning fast and metronome perfect. He sings lead and harmony. Don's hard-driven double-stop fiddle style and bass voice is an integral part of the band's sound. 
Keeping the band's beat steady and true is bassist Tommy Thomas. He can also walk up and down the neck when called on. 
Writing some excellent original material, both melodic and lyrical, is mandolin player Patrick Russell. 
All of the band members contributed a great deal to  GRAVEL IN MY SHOE and are looking forward to promoting it in the coming year.